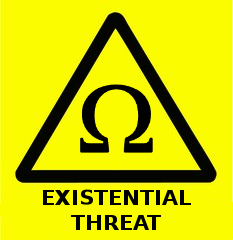 Definition: Existential risk – the possibility of an adverse outcome that could either annihilate Earth-originating intelligent life or permanently and drastically curtail its potential.
An existential risk is one where humankind as a whole is imperiled. Existential disasters have major adverse consequences for the course of human civilization for all time to come.
Our approach to existential risks cannot be one of trial-and-error. There is no opportunity to learn from errors. The reactive approach – see what happens, limit damages, and learn from experience – is unworkable. Rather, we must take a proactive approach. This requires foresight to anticipate new types of threats and a willingness to take decisive preventive action and to bear the costs (moral and economic) of such actions.
-- Nick Bostrom
Source paper

Existential Risks

Analyzing Human Extinction Scenarios and Related Hazards
This is a topic that deeply concerns me as we approach the Singularity. With every positive singularitarian utopian dream lies a veil of existential risks. To futher complicate the matter some of these risks are known and some are unknown. Regardless of not knowing what lies ahead we press forward with very little for a safety net.
speaking of safety nets, the Svalbard global seed vault was founded to do just this. Its mission statement reads as follows:
The Svalbard Global Seed Vault's mission is to provide a safety net against accidental loss of diversity in traditional genebanks. While the popular press has emphasized its possible utility in the event of a major regional or global catastrophe, it will certainly be more frequently accessed when genebanks lose samples due to mismanagement, accident, equipment failures, funding cuts and natural disasters. Such events occur with some regularity. In recent years, some national genebanks have also been destroyed by war and civil strife. There are some 1,400 crop diversity collections around the world, but many are in politically unstable or environmentally threatened nations.
Enough reading lets hear it from the man himself.

what did you say? The possible destruction of all originating intelligent life is no big deal?
Taps you on the shoulder... hey buddy, yah you buddy, I think he means us, yeah you and me, we're the origin of intelligence on this planet.
My simple solution to all of this is a physical cosmic back up of the human race. Let us send spores with our DNA to travel the galaxy and provide humanity with a hard reset switch while we stay behind and play the singularity end game at home.
If we manage to survive till tomorrow I will see you all laterz.