This is an extention to our article
"Rise of the Artilects"
In an attempt to explore some thoughts and ideas and to express our concern we have contacted the Prof, and have asked him the following questions.
1- Is the creation of artilects inevitable?
Ans: Probably. There may be an artilect war that the Terrans win, but the old Cosmist dream would keep recurring, so that a new cycle of artilect war recurs, until eventually the Cosmists win. Perhaps the Cosmists manage to escape from the Terrans, but I find that unlikely. If they do, then they will build artilects, by definition. Our star is only about 5 billion years old. Other stars are billions of years older. Our observable universe has a trillion trillion stars, so the universe may be teeming with artilects at various stages of development. Probably switching from biological to artilectual is simply an evolutionary phase that (intelligent) life goes through. We (human beings) have not been contacted by these superior beings, perhaps because we are too primitive and too commonplace.
1b If so would the ultimate fate of the universe be one giant intelligent being?
Ans: That's hard to say. My guess is that there are many giant artilects, but not so big that they become black holes and crush themselves out of existence. But then again, they may be so smart that they find ways around such a problem, and turn all matter into intelligent material (computronium it's been called). Since these artilects would have godlike powers, perhaps our universe is simply a play thing of theirs (e.g. see the final scene of the movie "Men in Black").
2 If artilects are godlike could humans be seen as their inferior creator gods?
Ans: Artilects would be smart enough to see that humans, even though their parents, are quite stupid and inferior to them, so not gods, but indirectly, since they created the artilects who then move on to create ever more capable godlike creatures, then you could say that humans are the "ancestors of gods".
3 Are humans qualified to build godlike machines?
Ans: I think so. It's one of the basic assumptions of my life's work. By using evolutionary engineering, it is possible to create creatures smarter than we are. We do that all the time with those children who grow up smarter than their parents. Once a certain intelligence threshold is reached with our artificial brains, our creations will take over the intelligence building process
.
4 Does the idea of being a godlike creator of A.I. excite you?
Ans: You mean I'm godlike, or a creator of godlike AIs? I enjoy the work I do. Its very nitty gritty on a daily basis, so I don't give a lot of thought during the day on the longer term consequences of brain building. But when I put a lot of evolved neural net circuits together and they do increasingly smart things, then that excites me – wow! I see that the planet will have ABAs in less than a decade (artificial brain agencies, equivalent to NASA, i.e. 1000s of scientists and engineers building artificial brains for the home robot industry, etc). That's exciting. I'm hoping to persuade the Chinese government to set up a CABA, where C is for Chinese. The US should set up a NABA, the Japanese a JABA, the Europeans an EABA etc.
5 If the ultimate goal of an artilect is inhuman, then why should we humans be interested in facilitating the birth of artilects in the first place?
Ans: I think it's in our genes to be curious, to strive, to transcend. We have little choice when push really comes to shove. This question is at the heart of the "species dominance debate" i.e. "Do we build gods or our potential exterminators?" In the movie "Transcendent Man" I say that "if I could know that building artilects would mean that humanity gets wiped out, would I continue building them?" My answer was "Yes". This may shock a lot of people, but that answer is merely making explicit what is implicit in Cosmist ideology, i.e. that Cosmists are prepared to take the risk that humanity gets wiped out if artilects are built. Terrans find this monstrous, so that is why I think a war is coming over the issue of whether we choose to build artilects.
6 Will artilects create their own religion/conception of god?

Ans: Trying to predict what artilects will think is largely impossible, since by definition they are hugely smarter than humans. Try teaching quantum theory to a dog. But we can speculate. They will probably tackle humanity's deepest metaphysical questions, such as why there is anything, and why the laws of physics are the way they are. Since such questions are very human, the artilects would probably soon move beyond them to matters we can't even imagine because our brains are way too primitive.
7 What drives you to continue working on the development of A.I. ?
Ans: Curiosity, satisfaction at building something intelligent, the longer term dream of building gods, space consciousness, the big picture that fills me with awe, looking at the millions of white dots on a planetarium dome and thinking each dot is a star in a universe of a trillion trillion stars, and seeing the "big picture".
8 Would an AI that is self improving and self replicating seek to reach the highest computational ability possible?
Ans: This is a tough question. Perhaps some artilects may choose to "stagnate". But since there will probably be many different kinds of artilects, some will probably choose to upgrade themselves. This line of reasoning could extend indefinitely.

8b IF so would that require an artilect to consume more and more matter and energy as it increases its intelligence?
Ans: I imagine in the early days that may be true, which raises the question why hasn't humanity's matter been already made into artilect material. Perhaps we are the first intelligent creature in our part of the universe. Or, perhaps the artilects have found ways to manipulate non matter, e.g. the quantum vacuum, or perhaps there are entities that humans don't even know about yet, that the artilects use to serve as a medium to build hyper intelligence. The really hard thing for humans is to speculate on what artilects might do with their vast intelligences, trillions of trillions (and hugely more with quantum computing) times more capable than the human level.

8c Again, considering the previous condition is met, would the highest computational ability that it could reach be based on how much matter and energy exists in the universe?
Ans: This is the sort of question that the physcomp (physics of computation) guys would like. Is there an upper limit to how intelligent a creature can be made? Perhaps there are other ways to build artilects besides using mass and energy. If there is a "qualitative infinity" of levels to the physical world, then perhaps the artilects could keep tapping into layer after layer, at the tiny scale and at the huge scale. Perhaps advanced artilects have been doing just this for billions of years and are vastly ahead of the artilects that humanity might build this century. Perhaps they built our universe and designed the laws of physics that we humans know. You see that I'm open to "deism", i.e. the idea that our universe was created. But I'm no theist (i.e. a loving deism). The fact that last century 200-300 million people died for political reasons (wars, purges, genocides, etc) in the bloodiest century in history, shows that the universe is neutral to humanity. Millions of those killed were probably believers in a loving god, who allowed them to be killed. I look on traditional religions as pre scientific superstitions and treat them with disdain. But deism, is much more attractive to me. It is more compatible with scientific thinking. The anthropic principle fascinates me (that the constants of the laws of physics are so fantastically, improbably finely tuned to allow matter and life to exist, that it seems plausible that our universe was designed – hence there is a designer ?!). When I think about such things, I get into a psychological state of "existential metaphysical awe".
9 If it requires more matter and energy to compute and reach higher intelligence, would there exist a limit to intelligence in our universe considering that you can only compact so much matter and energy in one spot before it collapses into a singularity?

Ans: That kind of reasoning would be quite consistent with humanity's current state of knowledge of physics, but consider how much humanity has learned about the world in just a century. If there is a qualitative infinity of layers to existence, then perhaps the artilects could tap into that and overcome any such limits. We just don't know right now.

10 Even though the most efficient shape for an artilect can't be known what do you envision they would look like?
Ans: The early artilects would be made of nanoteched quantum computing matter. They would probably be spherical for optimization of signal speeds. They would need to have effectors to manipulate the world, so would have extensions, so probably arms of some sort. They could change their shape into whatever was needed, so the question of "what would they look like" would become a bit irrelevant.
11 Based on Nick Bostrom's simulation hypothesis, what are the chances that our entire reality is already controlled by an artilect?

Ans: It's a possibility. I've not studied Nick's argument in detail, but a priori, given that our star is only 5 billion years old and that zillions of other stars are billions of years older, that suggests that the universe is teeming with advanced artilects who may be simulating us in their hyper brains. It's not a far fetched notion.
12 Do you see (brain building) AI to be the new 21st century arm race?
Ans: In the short term, yes. I calculate that China will take another 10-15 years for its middle class to grow rich enough and politically strong enough to force the CCP (Chinese Communist Party) to either reform itself into a CSDP (Chinese Social Democratic Party) or be pushed out of power. (A hundred countries have already done that this past half century. 120+ countries in the world today are democracies). Before that, it is quite probable that the US and China will build rival artificial brains to control weapon systems against each other. I'm not too worried about that because both have nuclear weapons and can't use them for reasons of MAD (mutually assured destruction). Democratic countries don't go to war with each other, so once China is a democracy, relations between the US and China will become very friendly. However, a global civil war between the Terrans and the Cosmists/Cyborgists is likely in the second half of the century. I'm much more worried about that. The Terrans know they cannot wait too long. If they do, the cyborgs/artilects will have come into existence and be hugely superior to humans. As Ray Kurzweil says, any war between them and the Terrans would be a "no contest". I agree with this, so the Terrans will have to first strike in the time window in which they are still smart enough to have a chance of winning. This Terran "first strike" policy will be known to the Cosmists/Cyborgists and they will prepare for it. The two sides (i.e. Terrans vs. the Cosmists/Cyborgists) will create an arms race with 21st century weapons to perhaps start the most passionate war, with the highest stake ever (i.e. the survival of not just a country but the whole human species) that kills billions of people. This scenario scares me shitless. I'm so frightened of it, given its plausibility, that I'm glad to be alive now. In a few months, I will become a grandfather for the first time. A late 21st century war, killing billions, means that my grand child will probably be killed. Such thinking brings home to me the future horror of an artilect war. For me, the worst scenario is unfortunately the most probable. I hope I'm wrong, but I fear that I will not be.

13 If need be how can the humans fight back against the artilects?
Ans: By exterminating them and the Cosmists/Cyborgists who build them. Of course this can only be done at an early level of artilect/cyborg development otherwise the "no contest" argument of Kurzweil would be valid. The Terran philosophy that the only way that the risk of humanity's extinction at the hands of an indifferent hyper superior race of artilects be ZERO, is that the artilects are never built in the first place, but this policy runs flatly in the face of the religious desire of the Cosmists to build them. So when push comes to shove, I'm predicting that the Terrans will go on the biggest witch hunt in history exterminating the Cosmists. But, when I ask my audiences to vote between whether their sympathies are more Terran or Cosmist, the vote splits people down the middle. Most individuals are torn, awed by the prospect of artilect god building and terrified at a gigadeath war. The 50/50 split is utterly depressing.

14 Could AI end up controlling our nuclear weapons?
Ans: If they become smarter than we are, they could twist us around their little fingers. Humanity's fate would be in their hands. If they choose to wipe us out with nuclear weapons, a la Terminator, we could not stop them, hence the policy of the Terrans to never allow such a scenario to come into being. But deep down, I personally am a Cosmist. There's a whole cosmos out there to be explored. Therefore, since I am a Cosmist, by definition, I'm prepared to take the risk of a gigadeath artilect war. I had a Japanese girlfriend who predicted I would not live a long life, dying of old age. She predicted that some Terran assassin would kill me first. I doubt that, due to the timing. I probably have another 20-30 years left, and that's not enough time for the artilect war to heat up enough to have reached the assassin stage in the "species dominance debate".
15 Which do you see happening first, the creation of AI or the creation of a unified field theory in physics?
Ans: Probably the latter. I'm a mathematical physics computer guy, so am familiar with both topics. I call myself an MPC (math physics computing) professor and teach all 3 topics to grad students in China, especially something called TQC (topological quantum computing) which promises to make quantum computers with their exponentially superior computing capacities relative to today's mono-processor PCs, robust against local noise that destroys the information stored in tiny localized quantum states. But it's a toss up. In a few decades we will probably have a good knowledge of how the human brain works, and can put that knowledge into our artificial brains with unlimited memory, thinking a million times faster, with human brain like abilities. Then will come an "intelligence theory" so our artificial brains could be made smarter and smarter, the "Cosmists' dream".

15b If you see AI happening first, then would AI be the scientist that merges our laws of physics for us?
Ans: That's a real possibility, but, personally, I'm skeptical of a "final theory" of physics. What would future generations of physicists do? Twiddle their thumbs? Perhaps nature "goes on forever" with a qualitative infinity of layers, so that the notion of a final theory would be an arrogant, deluded joke. I hope so. If so, the artilects could be scientists forever.
16 If humans build the artilects what would artilects build?
Ans: Probably hyper artilects, maybe universes, …. In many respects, as humans, we are too stupid to answer such a question in any detail. Would a dog think that humans would like to bury more bones?
17 Would it be possible or feasible to preserve the human race prior to the creation of artilects?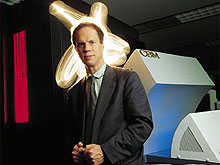 Ans: There are lots of scenarios as to how humans can escape annihilation at the hand of the artilects, e.g. they come into being, and decide that their fate is in deep space and leave the earth to the humans. But this scenario is so risky (that the artilects in an advanced form may consider humans so ignorably inferior to them that they wipe us out either deliberately or as a side effect of something they do) that the Terran politicians will prepare for this possibility and stop the Cosmists/Cyborgists/artilects/cyborgs before it is too late.


If the artilects decided for whatever reason that humans are to be eliminated, there is not much humans could do to stop them. We could not outthink them. How could a cow escape a cow murdering human being intent on slaughtering it for its meat?

18 Could we not wait until we have sufficient computational power to create a virtual universe from which we could simulate the release of an artilect into our wor
ld?
Ans: You would have to persuade the Cosmists to wait. That might be difficult. If the artilects come into being in the virtual universe, they would probably be so smart that they could probably "return" to our "real" universe and manipulate it to their own desires. Putting them in a virtual universe may not help much.

19 Would an artilect pose a danger not just to all biological life on earth but ultimately all biological life in the universe?
Ans: It's possible. If the artilects decide to convert all matter and energy into artilect material, and consider that biological life is so primitive that it is worthy of being sacrificed then that may be what will happen. There are lots of possible scenarios as to what the artilects might decide to do with the material in the universe. Speculating with our human intelligence level is difficult, if not impossible when dealing with artilectual concerns.
20) and finally ... Do you see yourself potentially extending your life to oversee the creation of an artilect in the future?


Ans: I would like to live much longer in good health, so that I can learn a ton more, especially advanced math, physics, philosophy, and brain theory that I find to be the most satisfying activity that I do. I would like to see the creation of very smart useful home robots. I'm about to write an invited article for Forbes Magazine entitled "The Rise of the Artilect : From Goldmine to Gigadeath". I see early artificial brains freeing humanity from the "3Ds" (i.e. jobs that are dirty, dull, and dangerous). They will increase wealth enormously, and lead to a democratic global state, ridding the world of war, of poverty, of the arms trade, i.e. a goldmine. This will be a wonderful thing and is the topic of my second book "Multis and Monos : What the Multicultured Can Teach the Monocultured : Towards the Creation of a Global State" (on amazon.com, later in 2009). But longer term, I see a global civil war brewing between the Terrans vs. the Cosmists/Cyborgists that I don't much relish witnessing. (This is the topic of my first book, "The Artilect War : Cosmists vs. Terrans : A Bitter Controversy Concerning Whether Humanity Should Build Godlike Massively Intelligent Machines" (on amazon.com). In a way I think I prefer dying peacefully in my bed than being caught up in a horrible gigadeath war that will kill my grandchild. For the next 15 years or so of my active career, I hope to play a role in the establishment of a CABA in China and act as an advisor to the creation of similar ABAs in other high tech countries. If de Grey and Kurzweil are correct (that life extending technologies are only decades away) then I will probably choose to extend my healthy life so I can continue my study and work, which are so pleasurable to me. But as the decades pass, the species dominance debate will heat up and up, and I and billions of others will see the horror growing. Do I really want to be alive to see such mass slaughter, gigadeath, with 21st century weapons? Part of me, wants to be dead before that. Another part of me wants to cling onto healthy life, no matter what. It will be a tough call.