By:  Aaron Franz
transalchemy.com
Artificial intelligence, human-animal hybrids, cybernetics:  The kids are gonna love this stuff! 
Looking back on my childhood, made me realize how many toys there were with transhuman themes.  Of course toys and entertainment went hand in hand.  But toys weren't the only thing being sold.  Ideas were also part of the marketing.  A little bit of culture creation for the kids who would grow up to see their childhood fantasies begin to take form in the real world.  Indeed, advanced artificial intelligence has
transformed
into a viable scientific reality right here in 2009.
The transformers were Ai machines that came to earth from heaven (space).  The goodguys interacted with humans and morphed into nice things like ambulances and Volkswagen bugs.  The evil transformers turned into nasty things like guns, and military vehicles.  Both sides were constantly fighting over energon cubes.  Metatron's cube = Megatron's cube?   
Who could forget those lovable teenage mutant ninja turtles?  They showed us that even animals could take a great leap forward.  These guys rapidly evolved underground in the sewer where it's dark and smelly.  Makes you wonder what kind of stinking underground research is being conducted in the real world?  Ninja turtles were even cooler than 
spider goats
 , because they had the shell of a turtle and the fighting skills of a human.  But the question remains,  
should actual ninja turtles be created?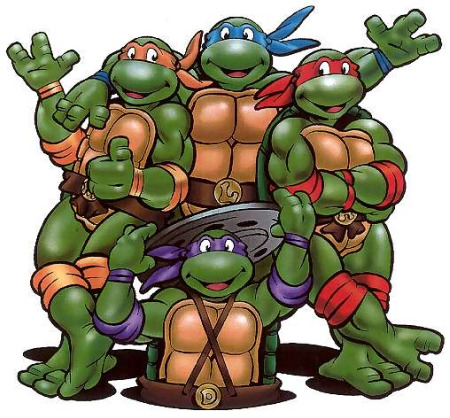 Another great toy took human-animal hybrids, and enhanced them even further with the addition of cybernetics.  The Battle Beasts were an angry bunch of critters that were armored and ready for battle.  
I don't know which would make me feel younger:  watching the new Transformers film in the theater,  or dreaming of turning myself into a posthuman cyborg.  Both of these things are intimately tied to my cherished childhood memories.  There is immense power to be had by anyone who can channel the power of childhood memories, and direct them for a distinct purpose.  Where would military recruiters be without GI Joe?  (cue another new movie)   There is no need for a military draft when people enlist willingly.  The question to ask now is how many people would willingly take an
implantable microchip
or some other form of transhuman enhancement?  Who would become a Battle Beast?