We currently live in a world with borders and nations, yet our digital economy has already begun to show signs that a global super intelligence is emerging. On a daily basis, waves of transactions, strobing at the speed of light, move the state of the global economy further into the unknown.
There exist many large scale computer systems, on this planet, all serving different tasks - some systems simply analyze other computer systems. Yet none of these systems affects our money so directly as those involved in global stock trading. In an industry where "intelligence" is a commodity, there is very little room for error. This reason alone has driven us to incorporate all our our best known pattern recognition software to predict the future state of the global economy.
To minimize error, we have begun to use artificial systems that buy and sell based on predetermined points of entries (stock values) - and while this type of trading keeps people at work and not worrying about their money, it also removes human decision-making from the process.
Yet with all these safe-guards in place, we still experience anomalies, which only seem to be growing in severity, as we experience during the crash of 08 and the recent 1000 point swing. With the increased application of "intelligent" traders,
why are we experiencing drastic market swings like what we saw yesterday
?
We have to begin to shift our minds set from the pure speculation of the potential future existence of greater intelligence and begin to look for signs to identify if such systems already exist today. This market's moves, coupled with the periodic and most recent market crash of 2008, seem to indicate a greater intelligence is begining to emerge in what is now our computer based economy. While most of this is computer related, to explore further into this we may have to explore several other factors - such as geological or astronomical phenomena.
Interestingly, the stock market plunge of 6 May 2010 did coincide with a Coronal Mass Ejection (CME).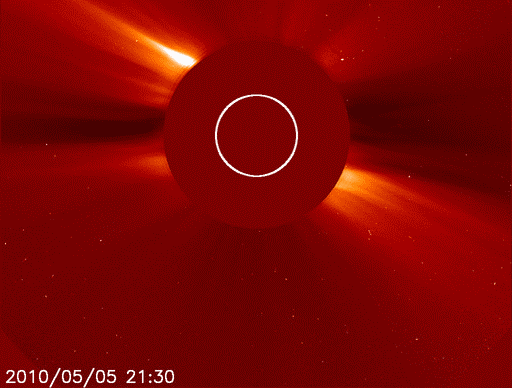 A computer model that can correlate stock market, geological, astronomical and psychological data, in order to predict the future states of the global economy, might be a critical regulating component of the subconscious of a worldwide brain. This can be seen in such projects as the
Living Earth Simulator
:
The Living Earth Simulator will gather as much data about humanity as possible, mining every available source to produce a picture of where we're at and where we're heading.
So, we must consider the possibility that future technologies may act as gateways for already-existing super intelligence.